If you are seriously interested in a KaraGold Puppy, Please fill out our Online
"Puppy Buyer
Application"
.
After evaluating one's application, we will call those homes of whom we think our Puppies would love!
And we are positive the feeling will be mutual!

After 30 years, KaraGold Goldens has built its excellent reputation on integrity and ethical breeding practices. We maintain contact/friendships, knowledge to our "extended KaraGold families". We strongly adhere to protecting our precious Breed and have produced excellent Health Clearances throughout the years. Our Goldens represent true Breed type, function, and most importantly, impeccable temperaments...the essence of the Golden Retriever Breed! We are serious"hobbyist Breeders" not just breeding dogs.
In search for your quality bred Golden Retriever, we suggest you visit the main Official Health Clearances Registry on Hips, Elbows,Heart and Eye Clearances:
OFA (Orthopedic Foundation of America) Their website:
www.offa.org
In Advanced Search section, insert our kennel name "KaraGold's", click on Golden Retriever, then click "Search" at the bottom of page.
Again, thank you for contacting KaraGold Goldens.

A Deposit of $800.00 is required to Reserve your Spot on our List.

We take Reservations in the Order Deposits are Received.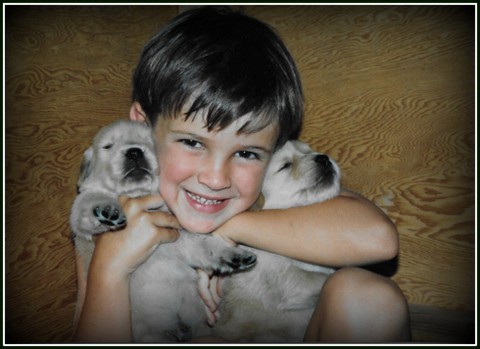 Our Son, Sean at 41/2 Years Old
Today Sean is a Doctor Of Veterinary Medicine!!!
Dr. Sean C Brady DVM