CH KaraGold's Play Ball!
"Babe"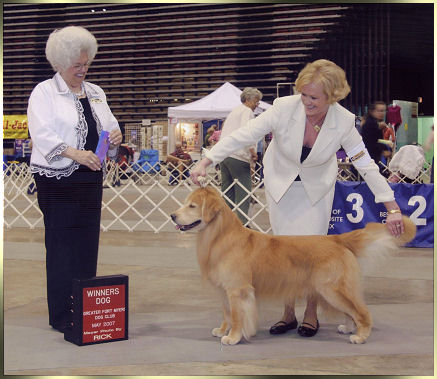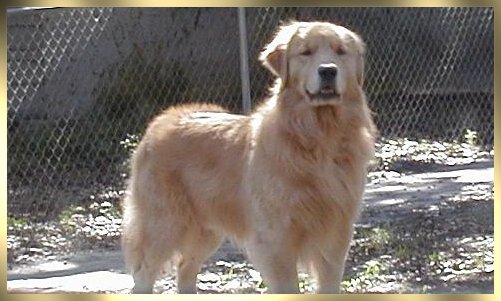 2007 MFGRC Specialty Weekend
MFGRC Specialty (Thurs)Babe RWD(5 Pt Major)
Next day, Babe WD/BOW (5 Pt Major)

Third day, Babe WD/BOW (4 Pt Major)and NEW CHAMPION!!!
2003 EGRC Specialty WD/BOW (4 Pt Major)13 mos old 2002 GRCA National Specialty
Babe's Puppy Picture

Finished with two 4 Pt Majors( Everglades GRClub Specialty)and
one 5 Pt Major, Breeder/Owner/Handler


Babe's full brother
"Brett" UUD KaraGold's MVP UDX ,RE, NAJ, CGC
( Williquette/Brady)
Has already made a splash in the Obedience ring.....
with a HIT to his credit!
He and Mike are quite a team!
| | |
| --- | --- |
| | |
| Mike & Brett | |
| | |
| --- | --- |
| | |
| | 8 Weeks |
Babe's Clearances
Hips: OFA GR-81710G24M-PI
Elbows:OFA GR-EL8723M24-PI
Heart : OFA GR-CA13007/65M/C-PI
Eyes: CERF GR-26443/2011--114

For more detailed pedigree click on the word Pedigree above
CH Gorca's Merlin OS SDHF BISS
CH Twin-Beau-D's Peterbuilt OS SDHF
Am-Can CH Pebwin Making The Odds OS
Twin-Beau-D Signet's Premiere OD
Am-Ven CH Sandpipers Gorca's Magic OD
CH Faera's Destiny Kodiak Kidd OS SDHF
CH Nautilus Boston Bunny OD

UUD UACHX OTCH KaraGold's Head Over Heels UDX OA OAJ TDI OD

CH Asterling's Buster Keaton OS
CH Birnam Wood's Mountin' Ash OS
Am-Can CH Amberac's Asterling Aruba OD SDHF
Am-Can CH Honor's KaraGld Wild Tyms T'Nite OD
Am-Can CH Asterling's Wild Blue Yonder OS SDHF
CH Honor's Pucker Up OD