6-25-93 to 2-17-03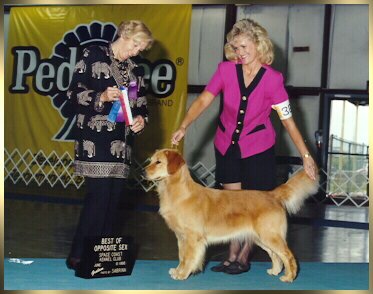 Shimmer was my first bred Champion...
all Breeder/Owner Handled before the age of 2.

We lost Shimmer last Feb.,,,
She had just taken a 4th Place at 2002 Golden Nat'l in Florida.


Pedigree
For more detailed pedigree click on the word Pedigree above
1 align=centev> !3CSPAN style=-22COLOR: #eecc65; FONT-SIRE: 10pt">Em/Can CH Rush/Hill's Haagen!Dazs CDX JH AX GAJ WCX VCX OS S@HF; Can. CD2G WC
CH Tangdeloft Odds On Pmbwin CD WC VC OW3G/TD> ;CTD width="78%"> CH. Goldwing True Bear OS S@HF!3C/TD><+TR>
Am-Can CH Kifsha's Flight to Rush Hill OD|/SPAN>
Am-Can CH. Alderbrookes Rush Hill Rebel AmCan TD, OS SDHF
Am-Can CH Kachinas Kinsha Kari AmCDX, CanCD OD
Am/Can CH Sunshine's Justmoor Brightly OD
CH Golden Light Always On Top BISS, OS
CH Vanreel's Max-N-Mom Effort OS SDHF
CH Asterlings Stardust Buster OD
Rosewind's Sunshine Carolina OD
CH. Asterling Austin-Healey OS SDHF
CH Sunshine's Rebel Rose CD

KaraGold Golden Retrievers copyright © 2003 - 2013

Do not copy or reproduce any photo or graphic on this site without permission.